People across the world report they are thrilled with CILI Sleep's consistency, reliability and premium quality.
Lack of sleep turns our world upside down and leads to exhaustion and many other health issues.  Flat out, a good nights sleep is profoundly important. Did you know that certain adaptogens regulate the level of cortisol reducing stress. Cortisol normally obeys the body's inner clock. It synchronizes patterns of sleeping.
A relaxed body allows for better and more rejuvenating sleep.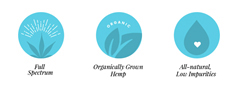 Health Benefits
CBD Full Spectrum/Whole Plant

Supports a peaceful restful sleep

Wake Up Refreshed NO after affects

Helps maintain your daily sleep cycle

Vanilla Crème flavor
Key Ingredients
CBD

Vitamin B6

5-HTP

L-Theanine

Valerian Root

Passion Flower

Lemon Balm

Ashwagandha

Eleuthero

Tulsi

Humulus Lupulus

Schisandra
Directions
For better sleep, once in bed spray 9 full sprays under the tongue – wait 30 seconds before swallowing. Individual needs vary, some people may find less sprays effective. Suggestion: If awaken in the middle of the night use 3-5 more sprays under the tongue to return to a restful sleep.
We believe in thorough testing of all of our raw materials. A good lab analysis needs to check for pesticides and heavy metals, microbial organisms, fungus, mold and other impurities along with CBD percentages.
Simple, transparent, and honest.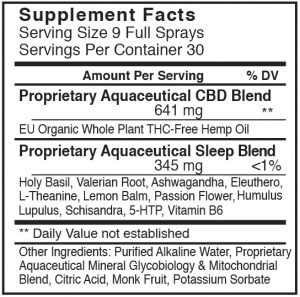 These statements have not been evaluated by the Food and Drug Administration. This product is not intended to diagnose, treat, cure or prevent any disease. As with all dietary supplements, if you are pregnant, nursing, or under treatment for any  illness consult your healthcare professional before using.